And back just a little further..
20 April 2017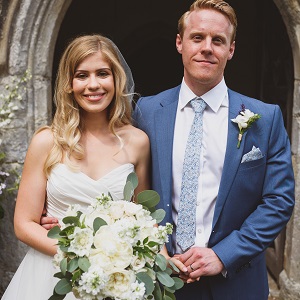 Lauren and James were married at the picturesque St Margarets Church in the field at Barming last July. What a beautiful couple in every sense and they had a wedding that complimented them in every way. Such a lot of thought had gone into this wedding with a mix of unusual colours all inspired from the pretty drawing on the weding invitations. A mix of corals, purples, deep pinks and creams all featured in a glorious bright summer pallet. The designs were relaxed and natural and featured a mix of displays from milk churns at the Church door to tiny glass and crystal jars of light whimsical flowers on the tables.
Photos by www.jacksonandcophotography.com
Lauren carried a beautiful soft bouquet of peonies and roses and garden foliage such as jasmine and various eucalyptus varieties with subtle trailing ribbons. Bridesmaids wore an unusal shade of bright jade green and carried bouquets of jewell coloured flowers with trailing ribbons.
The gent's buttonholes were made with white freesia and lavender and finished with open stems and natual raffia.
The lovely cake was decorated with extra stems of pale pink and cream flowers and the whole piece looked delicious!
Thank you for sending these through Lauren, they made my day!
Fantastic images above are all courtesy of www.jacksonandcophotography.com