Flowers and Feathers at Ashdown Park Hotel
30 June 2018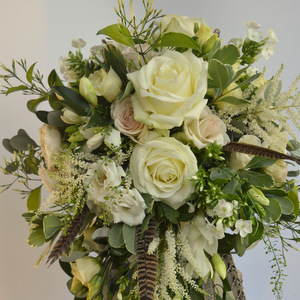 Jenna booked me quite late for her and Ben's wedding flowers but I was so glad the date was available for them. I had never been to The Asdown Park Hotel in Sussex before, it is just a little bit outside my usual stomping ground, but it was well worth the journey, it is spectactular.
Jenna and Ben's summer wedding was held on the same day as her late father's birthday. He was a game keeper and as a way to honour him Jenna had collected pheasant feathers to use throughout the floral designs.
A friend had made some amazing wooden stands for the centrepeices to go on top of, they had to be big and tall to fill the most unique and incredible space. The wedding breakfast was held in an old chapel. The glorious stained glass windows provided a real wow factor and beautiful breathtaking light.
Jenna's shower, cascade bouquet was made with roses, feathers, jasmine, spray roses, phlox and freesia and eucalyptus foliage.
Vintage style metal lanterns were filled with flowers and placed at the steps of the entrance to the garden house and crates were stacked and filled with roses, stocks, gypsophila and foliage which stood on the registrars table.
Such a beautiful, sumputous wedding to be part of, as always, I can't wait to see the photos!