Kent Castle Wedding
14 May 2017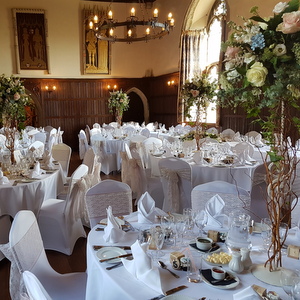 And what a gem of a couple too, Jenny and Matt were one of the nicest couples to work with. They came to see me so long before their wedding, they were so excited in the planning and seemed to enjoy every bit of it. They loved my cats (which made me happy :)) and told me they were animal lovers and had devised ways to incorporate some of them into their wedding. They loved the rustic styles for their flowers and they were so right in their choices for the Castle. The setting for this wedding was grand but friendly, intimate and cozy corners for guests to relax and a view out to sea to die for.
To dress the guests tables in the Great Hall, we used my tall wrought iron stands dressed with twisted willow stems for a rustic feel and topped with a large arrangement of flowers and foliage in soft pinks, white and palest of blue. Stems of astilbe, scented stocks, roses all made an appearance. Beautiful tall wedding centrepieces without competing with the surroundings.
Jenny carried a bouquet of pale pink, pale blue and white flowers. These included peonies, sweet peas, sweet avalanche roses and pale blue delphinium pips.
The bridesmaids carried hand tied bouquets of mixed pale pink, white and blue flowers including a new flower to us over here called Oxypetalum or 'Tweedia'. It has tiny clear blue star shaped flowers a little like forget me nots but bigger with a tiny centre that looks like a pearl.
We draped the large fireplace in the Great Hall with a lovely long garland of flowers and foliage which framed it perfectly.
It turned out that Jenny and Matt had drawn pictures of their pets for the table names and everywhere I looked I spied a little cat here and a rabbit there!
I wish them a really happy honeymoon animal watching in Borneo! Wonderful!