Lympne Castle in The Sunshine
27 July 2018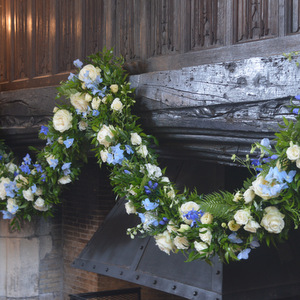 We had our work cut out for Fiona and David's wedding with it being the middle of the 2018 summer heatwave. Those hot days just went on and on and thank goodness for our fantastic suppliers who continued to bring us flowers daily, holding back vunerable blooms in cold storeage and allowing our couples the freshest most beautiful wedding flowers throught the summer.
Some flowers tolerate heat better than others and sometimes in very hot weather some delicate blooms (that we all love for weddings!) will sadly struggle whatever we do. Sweet peas, dahlias and scabious are not heat lovers. We can and do substitue some varieties if we feel the quality could be compromised. Flowers are always delivered in water so that you can be sure they are as fresh as possible.
Fiona and David loved the lemons and fresh blues and greens for their wedding day, all co-ordinated perfectly with Lucy from CaroEvents who provided chair covers and sashes.
Fiona specifically asked for ferns to be included, as her dress had a strong fern pattern in the delicate lacework.
We used lovely long delphiniums in 2 different shades, powder blue scabious, cornflowers, lemon roses, cream scented stocks and lisianthus with lots of fresh garden greenery.
Lympne Castle is such a beautiful place to decorate, you couldn't really get it wrong, with breathtaking views from every corner.
We provided flowers for the aisle chairs and little jars for them to be popped into later in the day, after the ceremony.
We made a stunning, long and loopy garland, draped across the ancient fireplace and finished the room with an array of lush tall but elegant table centrepieces for every table. The colours of the flowers were subtle but vibrant.
Outside it was the hottest day of the year but inside the castle was cool and pleasant and the very best place for our flowers.
We were thrilled to be a part of Fiona and Dave's wedding and delighted to receive such tremendous feedback on our facebook reviews. Go take a look!