Peachy!
16 September 2017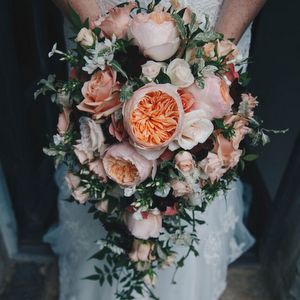 Well the weather can't always be on our side on the one day we want the sun to shine but the 16th September did certainly give rise to some dramatic photography captured here by Chloe Thorley.
Nettlestead Place is one of my favourite venues not least because I believe I was the first bride here 19 years ago before it ever was a wedding venue! It is still a private family home today but has now become a sought after location for those seeking a beautiful private wedding.
The grounds and gardens are fabulous and the marquee sits nestled amoungst plants and trees.
For us it is a beauty to decorate and just on the doorstep which is the icing on the cake!
Natalie and Graham chose turqoise blue as a colour for bridesmaids dresses which we couldn't really match so went with warm peaches and glowing apricot. The flowers included the very popular Juliet David Austin rose, spray roses, white scabious, white astilbe, jasmine, poppy heads for texture and a little flower called chocolte cosmos that actually does small like chocolate!
The marquee was decorated with low table centerpieces on each table in miniature stone urns and from the ceiling we hung floral chandeliers in peaches and cream flowers. These are show stopping pieces and even on the day I took an order for 3 more at another wedding as they were so eyecatching. The weather was cool but as a florist hanging from the top of a very tall ladder in a marquee I was not too upset about that!
Lovely people and lovely flowers and thanks to Chloe Thorley for sending across some great images of the day.